Today was a very exciting day in Scoil Barra , not only did the whole school circumnavigate the Regional Park but we were also visited by three of Ballincollig Basketball Club's biggest stars. Andre Nation , Ciarán O Sullivan and past pupil Daniel O Sullivan generously spent the morning with us.First they were greeted by our New student Council who introduced our visitors  to our Senior infants and Junior Infants in their classrooms.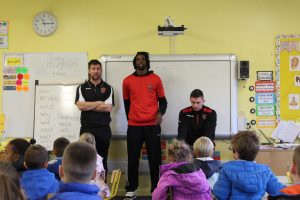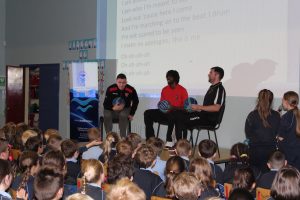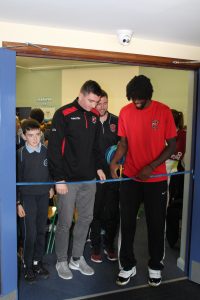 On the eve of a very important match against Scotts Lakers St. Paul's Killarney (4pm in BCS) Andre , Ciarán and Daniel then spoke to all the children about the importance of exercise, working hard and finding something you are passionate about that you will enjoy partaking in . You could hear a pin drop as our guests answered many questions from the children, offering advice, recalling times where things were not always easy and regaling us with times where hard work and commitment led to victory.
Following the wonderful visit the students , staff and parents of Scoil Barra briskly trekked through the park. Spirits were high and great fun was had by all. A special thanks also to Lorenzo who who decided at the last minute to give Cork a wide berth as not to disrupt our plans.