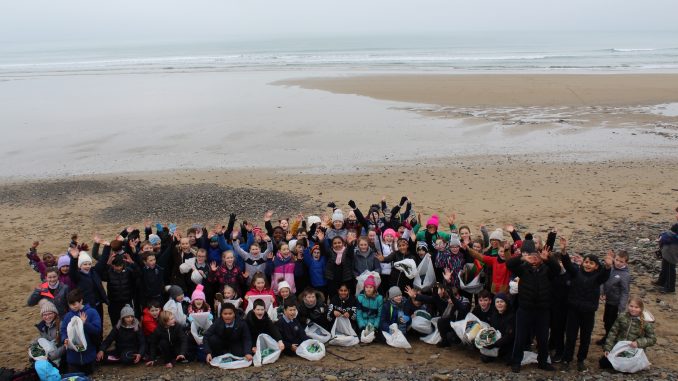 5th class went on an amazing outing to the Beach on Thursday the 23rd of January. Some might say that the beach and January might not be a great combination, but we had a great day!
We kicked off our adventure with a beach clean-up. We could not believe how much waste we collected off the beach during this activity. The majority of the waste we found was plastic. We brought our bags of marine waste back to school which we will use to make a 'Trash to Treasure' art piece with over the next few weeks in school. 
We went exploring with our clipboards and field-trip booklets and looked at the different types of sand, rocks, stones and geographical features of the beach. It was really cool to see some of the man-made and natural coastal features we had learned about in class in real life on Garretstown Beach. We looked for living things on the beach and even found a frog hiding by some seaweed in one of the rockpools near a small cave! Some of us even went inside the cave for a look. We did some rock climbing, had stone skimming competitions and even built beehive huts with stones we found.
We went on a wellbeing walk too to finish off our great day of exploring! The fresh air was amazing! We had a great day out with our classmates, teachers and SNAs.